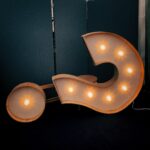 Do you have questions about the COVID-19 Vaccine?
Are you wondering the following:
Is it safe?
What are the ingredients in the vaccine?
If I am pregnant or breastfeeding, can I get the vaccine?
When will I be able to get the vaccine?
The information below is not meant to take the place of professional medical advice. Talk to your healthcare provider if you have any questions about the vaccine.
Please see below for some information sheets and graphics about the COVID-19 Vaccine. There are resources available in different languages.
Visit the websites listed to view updates to information.
About COVID-19 Vaccines: Benefits, Side Effects and Risks, Allergies, Vaccinations while pregnant or breastfeeding
Includes COVID-19 Vaccine Information Page in English and various translations – updated January 15
When the vaccines will arrive and who will be vaccinated
Vaccine Distribution Task Force
Ethical Framework
Authorized COVID-19 vaccines
Monitoring safety of vaccines
Securing vaccines
Graphics and Translated Resources
Please see below for organizations who have created translated materials and infographics:
The South Asian Health Network is a Canadian collaborative effort of health care professionals to enhance the health and well-being of South Asian and other racialized communities. We specialize in creating culturally appropriate health educational content and public facing advocacy to address structural inequities in health care and public health.
COVID-19 Vaccine Side Effects Infographic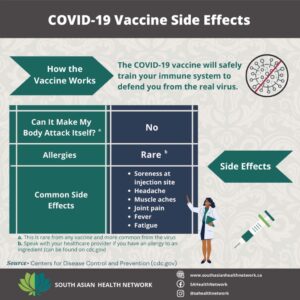 Infographics Related to COVID-19 and the vaccines,
English                                                                      Hindi