Pregnancy and Breastfeeding Support
Our Registered Midwife provides care for mother and baby leading up to and after birth. Our services include health education, home visits, birthing and delivery.
The Lactation Consultant can help you get the support you need before the baby is born and right after birth and until you decide it is time to stop breastfeeding.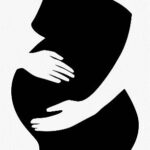 Virtual Community Prenatal Program
Please continue to check the website for upcoming sessions
Topics include:
Physical and Emotional Changes in Pregnancy and after the birth
Nutrition and Healthy Weight Gain
Exercise
Safety during Pregnancy
The Birth Partner's role
Breastfeeding
Postpartum and Newborn Care
Fun Activities
For more information please call: 426-249-8000
Prenatal Yoga
Join our weekly virtual prenatal yoga class and connect with other mothers, learn self-care tips, share experiences and be physically active.
New sessions starting January 2021. For more information, call Paola Morales at 416-249-8000 x 2291
Virtual Breastfeeding Support Group
Are you:
Pregnant or breastfeeding?
Needing support and information about breastfeeding?
Feeling isolated?
Interested in community resources?
Join Expectant/Moms online every Wednesday 1 – 3 pm
Zoom Group hosted by our Lactation Consultant, Shannon McLennon, IBCLC
Call 416-249-8000 x 2242 to Register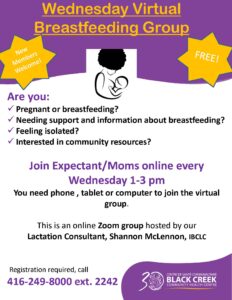 Breastfeeding Besties: Mother to Mother Support
You are not alone. Are you interested in having support from an experienced breastfeeding mother?
Join our Program where you will be matched with a trained Bestie!
Call 416-249-8000 x 2242 to register
View Bestie Flyer here.
Contact us
Sheridan Mall Site
| | |
| --- | --- |
| Sun | Closed |
| Mon - Fri | 9 AM - 5 PM |
| Sat | Closed |
Yorkgate Mall Site
| | |
| --- | --- |
| Sun | Closed |
| Mon - Fri | 9 AM - 5 PM |
| Sat | Closed |
GET UPCOMING EVENTS IN YOUR INBOX
Sign up to receive our emails and never miss an event.